How to get to Finland and Aalto
Getting to Finland
Flight Connections
Helsinki-Vantaa airport receives direct flights from roughly 140 destinations around the world. The airport is located 22km from Aalto University campus and 18 km from downtown Helsinki. A frequent train link opened in 2015 connects the airport to downtown Helsinki in less than 30 minutes.
Below is some examples of flight connections and flight times and to Helsinki
(Click an image above to expand)
Ferry Connections
Frequent bus services in the Baltic countries connect Latvia and Lithuania with the Estonian capital, Tallinn, and from Tallinn the fastest ferry to Helsinki takes less than two hours. There is a large selection of crossings every hour. There are also ferries from Stockholm to Helsinki. A ferry departure operates each evening, taking you overnight to your destination through the beautiful archipelago. You can also reach Finland by ferry from both Germany and Poland.
For more essential travel information for Finland: getting in, and around the country: Click here
Helsinki Airport to City Centre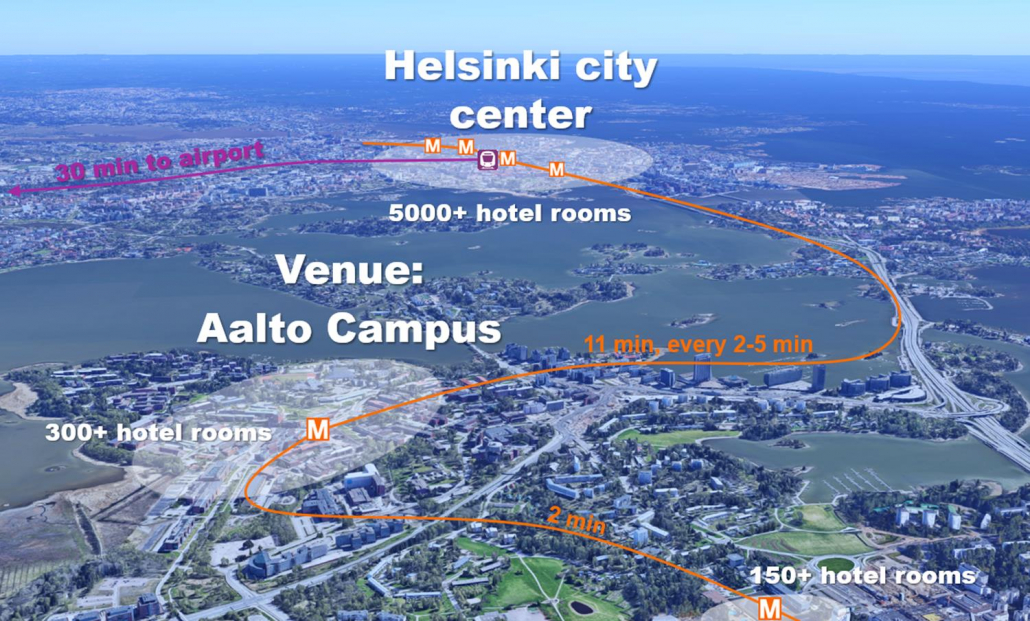 By Train
The easiest way to reach the city centre from the airport is by train. Trains I and P on the Ring Rail Line depart every 10-20 minutes from Helsinki Airport (Helsinki Ientoasema /Helsingfors flygplats) to the city centre. The stop is Helsinki/Helsingfors and the journey takes about 30 minutes. The public transportation pass included in the registration fee is valid for the train journey. Please note that trains do not run between 01:00 and 05:00 at night.
By Taxi
Taxis can be hailed at taxi stands or ordered by phone. Prices are fixed and shown on the meter, and both cash and credit cards are accepted. A taxi from the airport to the city centre takes around 20–30 minutes and costs around €45.
Taxi companies operating in the Helsinki area include:
Taksi Helsinki +358 (0) 100 07 00
Yellow Line Airport Taxi +358 (0) 600 555 555
Kovanen Taxi +358 (0) 200 60 60
By Shuttle
Some hotels offer shuttle services, please enquire with your hotel for details and availability.
Helsinki City Centre to Aalto Campus
Aalto University is located about 6 km to the north-west of Helsinki city center. The new, modern metro connection opened in 2017 provides a quick and easy way to get to Aalto from central locations in Helsinki using the public transportation pass included in the registration fee. Moreover, this is the only metro line in Helsinki, which makes traveling between the campus and the hotels very simple and easy.
From Helsinki city centre the Tapiola and Matinkylä metro lines will bring delegates to Aalto University. The station is called Aalto University. The Metro runs every 2.5 minutes at Aalto University station during the rush hour, and every 4–5 minutes at other times. The journey from Kamppi to Aalto University in Otaniemi takes 11 minutes. There are two exits from the Metro station, Otaniementie and Tietotie. Use Otaniementie exit to access the conference venue. When returning from Aalto University to Helsinki city centre please take the Vuosaari or Mellunmäki metro lines.